Better Together
Love kindles when a fake engagement brings best friends together.
World Champion snowboarder, Wyatt Fernandez, should be hitting the slopes in the Andes and spending his days teaching as the new ski instructor. But an emergency means he's heading off the family's tree farm with his best friend, Harper. She's too busy with her books and earning tenure to notice his hopes for more than friendship. Homebody and nutritionist, Dr. Harper Bright, must let go of her coveted summer research position so she can help on the tree farm…with Wyatt. He might push past her comfort zone, but he has always "gotten" her. She doesn't want to scare off her best friend just because he is suddenly far more interesting than the nutritional benefits of broccoli. In order to keep their friendship intact, Harper has to pretend she is not infatuated with her best friend. When Wyatt names Harper as his fiancé to appease his father and prevent returning to Chile early, he never dreams Harper might actually have to play the part. Wyatt wants more than a reluctant fake fiancé. And he has one last summer to convince Harper that they're better together. "An author I can always count upon to engage my mind and warm my heart." – Ramla Zareen Ahmad, Author of Light-Hearted Romance.
"Jessie Gussman creates believable characters that you will fall in love with and root for till the very end."
– Emily Camp, Author of Running Back
"An author I can always count upon to engage my mind and warm my heart."
– Ramla Zareen Ahmad, Author of Light-Hearted Romance
"Jessie Gussman's lighthearted approach and quick wit will have you turning page after page."
– Kimberly Dallaire
"This sweet story is full of warmth and humor, a story I didn't want to put down until I finished the last page. And even then, I didn't want the story to stop…"
– Amazon Reviewer
When the high school's float explodes five days before the National Farmer's Day parade, Principal Calvin Finkenbinder sees his chance at the promotion to Superintendent disintegrate. Unless he enlists the help of Ellie Bright, the most annoying, disorganized and kissable woman he knows. Standing in Principal Fink's office, again, for driving her daughter to school late, again, Ellie is given two odious choices. Either her straight A daughter receives detention for another tardy that's not her fault, or Ellie uses her artistic skills and helps the uptight, stringent principal build a new float. As they scramble to construct the float in time, Ellie's chaotic life collides with Fink's methodical plans. A tangle of arguments and decorations leads to a stolen kiss. Underneath their long established animosity is an unexpected passion that threatens to ruin more than just a school float.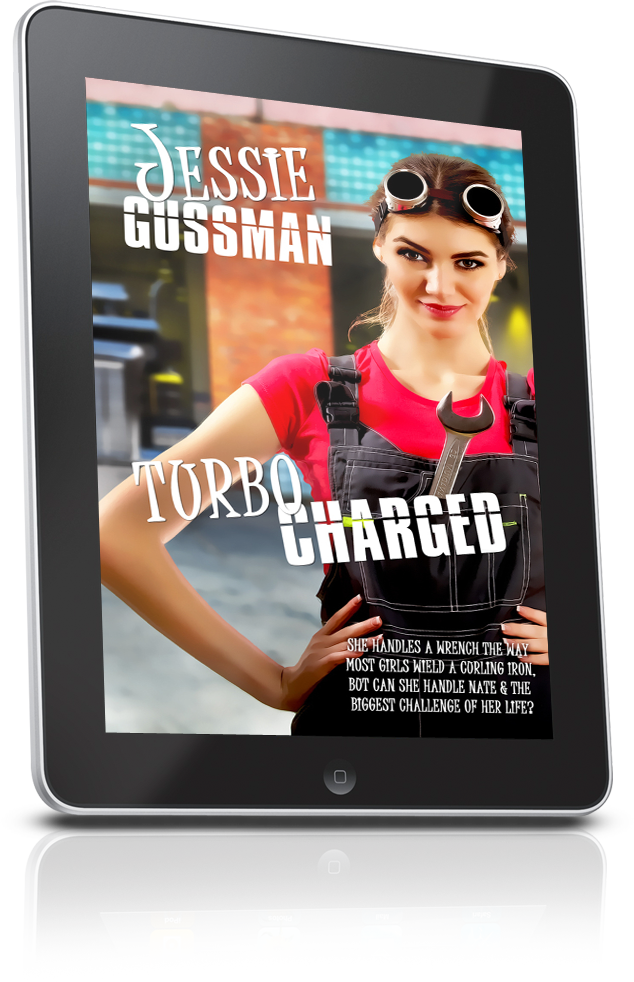 Coming Soon . . .
Turbo Charged
Wrench-wielding Kaitlyn Driver needs to convince her dad, owner of Driver's Door Trucking, that the daughter he has is just as good as the son he lost. What better way to do it than by winning the Atlantic Coast Big Rig Pulling Series? Then her step mom gets sick, and Kaitlyn must forgo her pulling truck to run the company and figure out how to take care of her step-brothers.
IT specialist Nate Gordon is ready to settle down and is looking for a traditional, sweet-tempered woman like his sister, Eve. But first, Nate promised his brother-in-law, Tank, that he would take care of his trucks in Transmission, PA, while Tank goes on vacation.
Due to an accident, Nate is forced to share a garage with the tough, yet tender, Kaitlyn. Rumor has it that Kaitlyn is the reason Tank's marriage is on the rocks. However, as they work on the big diesel motors together, Nate can't believe the rumors are true. Soon he's knee-deep in boys and baby bottles, trucks and turbos, and he finds himself fascinated with the blue-eyed beauty who can handle a Peterbilt the way most girls run their curling irons.
Kaitlyn is intrigued by Nate, and when her dad's drivers start quitting, Nate could be the only one who can save their company. Can she learn to depend on someone besides herself?
Want to be the first to know when Turbo Charged is available?
Join Jessie's Email list!