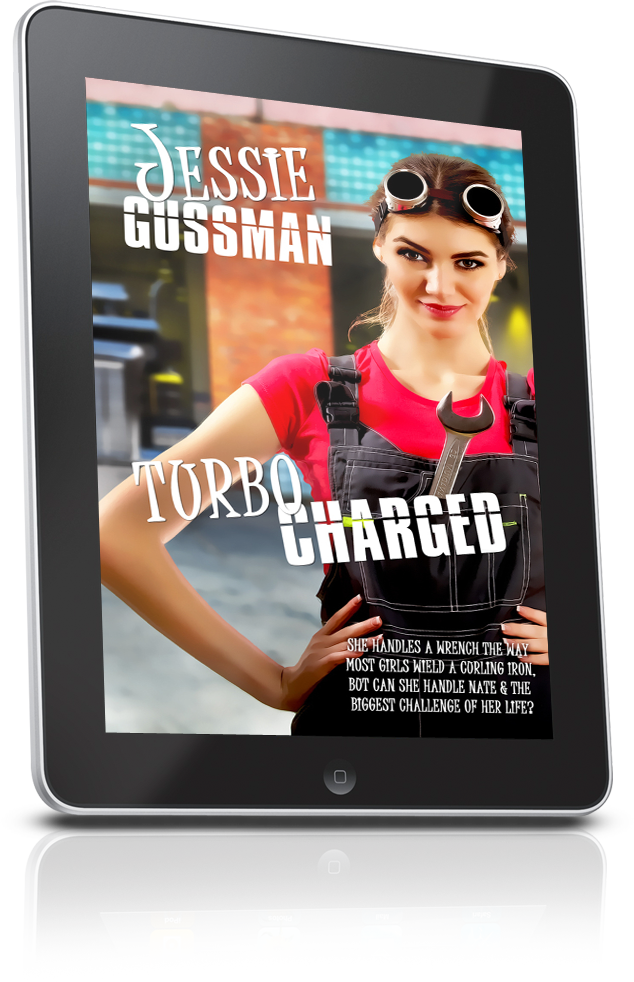 Turbo Charged
Wrench-wielding Kaitlyn Driver needs to convince her dad, owner of Driver's Door Trucking, that the daughter he has is just as good as the son he lost. What better way to do it than by winning the Atlantic Coast Big Rig Pulling Series? Then her step mom gets sick, and Kaitlyn must forgo her pulling truck to run the company and figure out how to take care of her step-brothers.
IT specialist Nate Gordon is ready to settle down and is looking for a traditional, sweet-tempered woman like his sister, Eve. But first, Nate promised his brother-in-law, Tank, that he would take care of his trucks in Transmission, PA, while Tank goes on vacation.
Due to an accident, Nate is forced to share a garage with the tough, yet tender, Kaitlyn. Rumor has it that Kaitlyn is the reason Tank's marriage is on the rocks. However, as they work on the big diesel motors together, Nate can't believe the rumors are true. Soon he's knee-deep in boys and baby bottles, trucks and turbos, and he finds himself fascinated with the blue-eyed beauty who can handle a Peterbilt the way most girls run their curling irons.
Kaitlyn is intrigued by Nate, and when her dad's drivers start quitting, Nate could be the only one who can save their company. Can she learn to depend on someone besides herself?
An Amish Sanctuary
Available Now!
Pop star and dramatic diva, Celeste, aka, Lucy Johnson, can't stop her frequent panic attacks and is careening toward a nervous breakdown. She needs major down-time, but in the fast-paced world of show-biz, when the spotlight fades, people forget.
Judah Martin has left the Old Order Amish and his fiancée so he can take care of his sister. Although he's English now, he still lives simply on his small farm raising his beloved Belted Galloways. He has no interest in pop music or divas, but his farm is in dire straits, and Celeste's manager has offered him a boatload of cash to allow her to recover in privacy. Although Judah could use the money to save the farm, he plans to say no…until a glimpse under Celeste's jaded exterior reveals a broken and wounded soul.
They are worlds apart; can love unite them?
Chickens in Canaan Land
Available Now!
Don't read this in bed!
Especially if you're lying beside your sleeping spouse.
Or while you're eating breakfast.
Or at work.
Or at the library.
Or any other time where silence is golden or you have your mouth full.
Hi! I'm Jessie Gussman and I get emails all the time from people who spewed their coffee/half-chewed toast/cereal out all over their e-reader.
Or who woke up their spouse while reading my newsletter because they were laughing so hard.
Or who save my emails until they get home from work because they don't have the kind of job where howling and rolling on the floor is acceptable conduct.
But not every story in this book is laugh-out-loud funny.
Some of them will make you cry.
Some will make you think.
And some of them will make you shake your head and wonder how in the world someone like me has made it through life without being put in a straight jacket and carted away.
Not even close. I get paid to write love stories.
Lol Life is weird, I agree.
I'm a wife, mother and farmer by day, romance novelist by night and in my spare time, I write about my life from prison.
Kidding about the prison part. (At the time of this writing, anyway. No one has figured out if there was actually a body in the car that's buried in my dad's back yard – that story's in the book, along with the time I caught myself on fire and my kid was laughing too hard to blow me out, how to charge a 1600 pound, angry mama cow (and why you'd want to), odd Amish courting rituals (involving frogs), and how not to fall out of your husband's Peterbilt as he's driving down the interstate.)
There is a lot of faith, family and fun in my fiction books, and WARNING: my real life has a ton of all that, too.
But life on the farm is not always fun. Sometimes it's hard and sometimes it hurts and those stories are in here, too.
Thanks so much for choosing to spend a little time with me today!
Love,
Jessie
"I wake up each Tuesday looking forward to your emails. They are so uplifting and inspiring not mention hysterical. You uplift and make me snort with laughter at the same time."
"I just want you to know how much I love to live through your humorous, well told antics of living on a chicken farm! It is a real look into a life I truly love to hear about. There is no doubt of your writing talent to be sure!"
"Thank you for making my day and making me think in turns. I'm just glad I wasn't eating that chicken queso soup that is thawing out in my kitchen while I was reading about your lunch conversation! You had me busting out laughing!…and right after you had me thinking about accepting all the joy and pain in life with grace. Thank you for being you."
"You took a break from the newsletter then came back first with Wacko making me laugh for a good fifteen minutes then with a sermon on good books that made me cry with its accuracy!"
"Look forward to Tues mornings. So uplifting and amusing."
"I've read your newsletter over twice and still bust out laughing when you talk about the conversation you and Watson had in the restaurant."
The Farm on Naked Creek
Available Now!
Hey, Everyone! I'm Jessie Gussman and I write love stories.
I guess some people think that a writer's life is glamorous. Especially a romance writer.
This book was written to disabuse that notion.
I'm kidding. That's not the purpose of this book, although it's a definite effect.
It's true that I'm a USA Today bestselling author, which, I have to admit, surprises me as much as anyone.
My husband and I also own a trucking company. We have two twenty thousand bird free-range laying houses (our eggs are probably in your grocery store!), raise grass-fed beef cattle, homeschool our kids and are on a first-name basis with the Game Warden and the state police (mostly because of the kids and not really my husband).
I frequently cook for strangers, occasionally hide from my family and own more fire extinguishers than the average person (for good reason).
Sometimes, when I sit down at my computer, instead of writing the next chapter in my latest romance, I write about my life.
Sometimes it's fun. Sometimes funny. Sometimes it's heartbreaking and sometimes you just see life through the eyes of a farmer, growing older every day and maybe just a little wiser.
We do a lot of laughing, some crying and every day is a learning experience wrapped in the love of God and held in His hand.
That's what I share with you in this book.
Thanks so much for spending some time with me today!
Love,
Jessie