Meet the Sweet Water Ranch Billionaire Cowboys
Small town, sweet romance with vivid characters, humor and heart.
He calls her Squeegie (Long story.)
She calls him Cowboy. (It's the hat.)
He needs to get married. (There's an inheritance, you know.)
She'll set him up. (It's just like buying a tractor…um, maybe not.)
Then they do something really dumb. (Yoga was dumb, but that's not what we're talking about.)
They kiss.
Big mistake.
Now what?
Fall in love with Sweet Water, North Dakota. Small town, sweet romance with vivid characters, humor and heart.
Now available to read in KU!
Get your FREE BOOK!
Sign up for Jessie's newsletter and get a FREE copy of The Cowboy's Second Chance!!
Fall in Love with the Baxter Boys
SNUGGLE up with SWEET romance that will WARM your heart and CURL your toes.
The Baxter Boy's Sacrifice
One night changed everything…
Cassidy Kimbell killed a man when she was only nineteen.
Torque Baxter took the blame, serving ten years for her crime.
He told her to flee the scene of the accident. He told her to run. He told her to keep her mouth shut, so that's what she'd done. She'd let a boy with a crush become an innocent man behind bars.
Today, that man is being released.
Cassidy expects Torque to hate her. She knows nothing she has done to atone all these years can compare to what he's lost. But she hopes becoming his sponsor on the outside, especially since she's a lawyer now, might help.
Little does she know, Torque doesn't want her to owe him.
He wants her to love him.
But to do that Cassidy would have to give up the life she's built for the last ten years. She'd have to sacrifice it all, just like he did.
Now available to read in KU!
Come for a Visit at Sweet Haven Farm
Frustrations and tensions fly amid adversaries turned partners in this fun and sweet romance.
When the high school's float explodes five days before the National Farmer's Day parade, Principal Calvin Finkenbinder sees his chance at the promotion to Superintendent disintegrate. Unless he enlists the help of Ellie Bright, the most annoying, disorganized and kissable woman he knows.
Standing in Principal Fink's office, again, for driving her daughter to school late, again, Ellie is given two odious choices. Either her straight A daughter receives detention for another tardy that's not her fault, or Ellie uses her artistic skills and helps the uptight, stringent principal build a new float.
As they scramble to construct the float in time, Ellie's chaotic life collides with Fink's methodical plans. A tangle of arguments and decorations leads to a stolen kiss. Underneath their long established animosity is an unexpected passion that threatens to ruin more than just a school float.
Now available to read in KU!
Kaitlyn Driver needs to convince her dad that the wrench-wielding daughter he has is just as good as the son he lost. What better way to do it than by winning the Atlantic Coast Big Rig Pulling Series? But when her step-mom gets sick, Kaitlyn must set aside her big plans so she can run the company and take care of her step-brothers. Then, rumors start to fly, and the garage and her reputation are in danger of being torn apart.
After an accident, IT specialist Nate Gordon is forced to share a garage with the tough, yet tender, Kaitlyn Driver. Suddenly Nate's knee-deep in boys and baby bottles, trucks and turbos, but he's fascinated with the blue-eyed beauty who can handle a big rig the way most girls run their curling irons.
Kaitlyn is intrigued by Nate, but she isn't sure if Nate will stick around or believe the rumors. When her dad's drivers start quitting, Nate could be the only one who can save their company. Can she learn to depend on someone besides herself?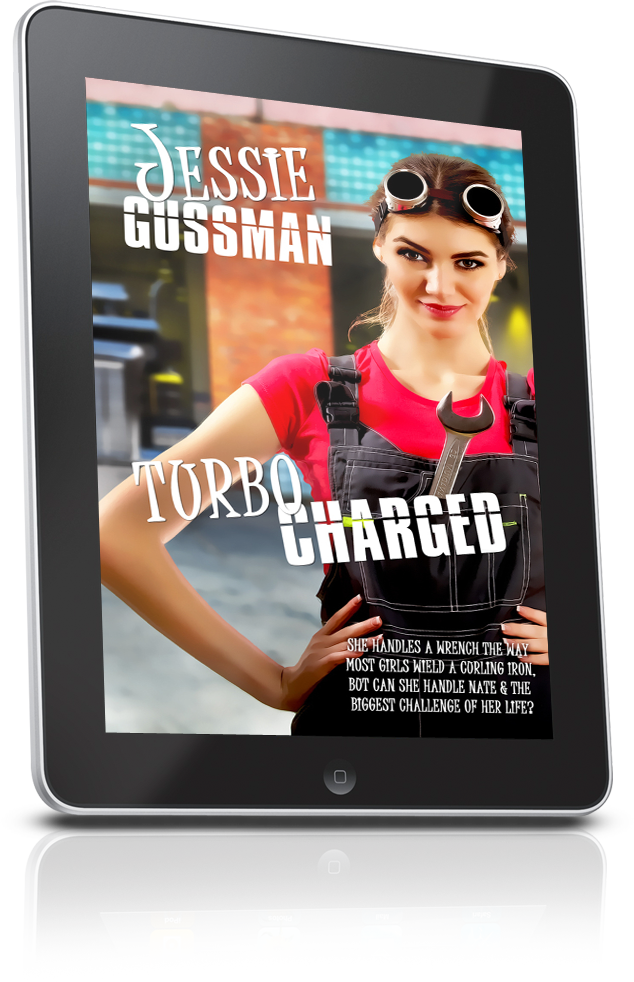 Join Jessie's Email List!
Get a free book, and stay up to date on all the latest news and releases!