Hello Sweet Readers!
I hope you're all having a wonderful week!
The lovely and sweet Mandi Blake has a brand-new release, Almost Everything. It's a friends to more romance and I'm sure you're going to love it. I have it below so be sure to check it out.
Also below you can enter to win a $25 Amazon egift card by submitting your favorite BBQ recipe for our cookbook.
There's a farm story if you scroll way down, and just below you'll see the beautiful new thumbnail Jay made for this week's FREE audio, Heartland Romance. You can click on that thumbnail and have Jay entertain you, make you laugh and introduce this week's sample. The full audio will release on Friday on Say with Jay.
Alright, in writing news, I finished writing Cowboy Stealing My Heart and it's with my editor. It releases on July 12th as an ebook, but Jay and I are going to do something new with this one, so keep an ear out for an announcement!
Alright, thanks so much for spending time with me today. Have an awesome week!
Hugs and love,
Jessie
---
Watch Jay introduce the preview for Friday's FREE audio release!
Listeners say:
I love the way Jay does the old ladies' voices!
My favorite thing about the book is I started listening to enter the contest and liked it so much I continued listening until it was finished.
I loved it all! Every word, phrase, paragraph and chapter! Jesse you are so talented and Jay is too. What a dynamo team! Love, love, love the story and the audio! Thank you!!!!
My favorite part is when the old men are discussing asking is a woman is fat! I laughed so hard. I love Jay's narrations! He does a fantastic job! Congratulations on 50 audios!
Jay brings the story to life like no other, the emotion he puts in is incredible, his voice for each character is so great I always know who is speaking like watching a movie with many voices and characters.
my favorite thing is just that…your story performed by Jay.
Wow! I'm not big into audiobooks but this is by far the best I've heard.
for a single narrator, he does the girl voices well too. Sometimes it takes me out of the story if the single narrator "forces it."
The way he changes voices and expressions; especially when he's doing the two old men that play checkers in his garage.
I like how Jay does different voices for all of the characters – it makes it more fun to listen to
---
Check out Mandi Blake's newest release!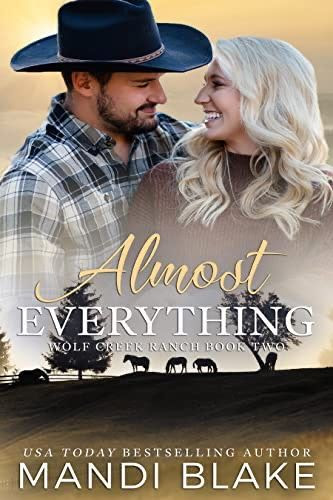 Her fairytale ending turns into a disaster. Can her brother's best friend convince her that she was chasing the wrong happily ever after?
Everly Cooper had it all. A successful fiancé, a dream home being built, and the life she always wanted away from the spotlight.
And then it all crashed and burned… publicly, and her brother's best friend, Blake, was all too eager to race to her rescue.
Blake Lawson left the world of professional football for the small town life five years ago. His friend, Ridge, needed help, and being closer to Everly was more than just a bonus. He'd been silently in love with his best friend's sister for years. He had everything he could possibly want, except her.
Blake refuses to watch her cry over a man who didn't deserve her. He's ready to fess up to Everly and show her how a real man treats the woman he loves.
When Blake's plan to win her heart backfires, he'll have to figure out what loving someone really means before he loses Everly forever.
Almost Everything is the second book in the Christian romance Wolf Creek Ranch series.
---
Jessie again with a farm story from last year:
We did get some rain after a long summer of none, so things are greening up. It also made things a little slick, and I couldn't get the hay truck out of the bottom pasture after I took bales down to the cows, so I left it there.
When Watson called to see how his cows were doing, I mentioned the bald tires (because it's the truck, not me, right? LOL) and the rain and the fact that it might be still sitting in the pasture. (I walked home, just for the record, too.)
He said, "Just get in the truck, back it up along the creek, put it in fourth, and floorboard it. If you get a good enough run, it'll go up the hill, no matter how muddy it is. Don't cut the corner so fast you roll the truck over."
I heard, "Climb the Empire State Building and jump off it."

So, anyway, I decided if he wanted his (dumb, old) truck out of there, I would do it my way. (I actually had to get it out because the cows were getting hungry, and 16 is in that herd, and if they get out, she's coming for me.)
Okay, I decided I really didn't want to die, and I kinda feel like I'm going to if that old truck goes any faster than about 5 mph (I'll go 10 if it's empty and going uphill) just because the brakes aren't the best and the steering is hard, and I'm always watching for snakes to crawl out of holes (and there are a lot of holes, just saying). (Have I mentioned the copperheads around here?)
I don't want to be going so fast I can't jump out.
Anyway, I have my youngest daughter get behind me and push me out with the tractor.
Julia was supposed to be standing by with her usual job, but she was busy taking pics, I guess.
It was okay, though, because it went off without a hitch. Pie did a great job, and no one died. (That reminds me. We had a cousin staying here for a while. She and Pie are the same age and have been best friends since birth. I think she had a really good time. At least she called her mom to ask to have her stay extended three different times. For some reason, she didn't mind us putting her to work, the poison oak that swelled her eye shut didn't seem to bother her—I let them eat ice cream and watch TV, which might have had something to do with it—and the last night she was here, they were swimming in the water trough until almost eleven. When she left, she gave Pie a hug and said, "I'll miss you. Please don't die while I'm gone." IDK if that's a normal farewell or if my family is just weird. I'm leaning toward the second.)