Hello Sweet Readers!

Oh, goodness. You all are just the absolute best! Thank you all so much for making Jay and my 50th audio – Friday's release of Always with You on Say with Jay – the most successful YouTube video launch yet! It's been better by far than any other video we've released. It was the absolute best way to celebrate 50 audios! I know Jay and I are both so deeply appreciative of your support – we absolutely couldn't do it without you. Thank you all so much!
Also, if you haven't listened to Always with You, you can do so HERE. After you listen (at least to the first chapter) click HERE and tell me what your favorite thing about it is, and I'll enter you into my drawing celebrating 50 Dyess/Gussman audios! I'll be giving away a few $50 Amazon egift cards next Friday.
Jay has a new preview for us, Heartland Cheer, so be sure to check it out below (please like it and comment on YouTube and check out what he's wearing!).
But, before that, the lovely and sweet Natalie Dean has an amazing limited time offer you won't want to miss.
Also, on down below, I don't have a farm story, but I did include a devotion I wrote last fall. Hopefully next week I'll have an announcement about my release schedule for this summer. Thanks so much for being patient with me. You are awesome!
Hugs and love,
Jessie❤️
Limited-Time Sale from Natalie Dean!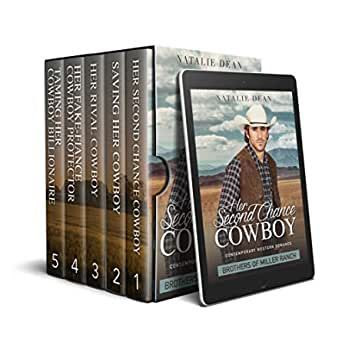 Ready to see why readers have fallen in love with the sweet and humble cowboy brothers of Miller Ranch? Five novels. Five handsome cowboys. All in one box set at a great value! What's not to love?
Her Second Chance Cowboy
When Ben accompanies his mother to an old friend's funeral…the last person he expects to see is her. Ben and Chastity were high school sweethearts whose three-year relationship ended dramatically. But they were once in the head-over-heels, can't-breathe-without-you kind of love. And now, they suddenly find themselves pushed into each other's lives again in the most surprising of circumstances.
Saving Her Cowboy
After surviving a few combat fights in the military, Bart Miller is suffering from a severe case of PTSD. Then he meets the new employee at his family's ranch, Missy. She may just be the only person who can help Bart begin his journey to healing. But will Mrs. Miller see it that way? Especially since Missy is somewhat off limits as an employee at the Miller Ranch…
Her Rival Cowboy
Danielle thinks Benji's just the arrogant, rich cowboy from the rival ranch down the road. So when he shows up on her family's ranch offering help after it suffered a big fire, she's less than cordial. Benji can't figure out why she seems to hate his guts for no good reason. Now he must decide if he wants to look past her attitude to do the right thing, or let her sour disposition chase him off…
Her Fake-Fiance Cowboy
Sophia Hernandez is on the run from her past. Then, out of nowhere, like a knight in shining armor, Bradley Miller shows up and runs off the man who has been haunting all of her dreams. And her world is suddenly turned upside down. Together, maybe the two of them can defeat the shadow lurking over Sophia's life. But doing so means trusting again, and some things are too impossible a task.
Taming Her Cowboy Billionaire
Bryant Miller is a cowboy billionaire who thinks he has it all. Keiko Albryte is out to prove him wrong. But although Keiko's life looks perfect on the outside, she has a few struggles of her own, which Bryant soon finds out about. Even so, Bryant still doesn't seem to be deserving of a good woman like her. Will their hurts combined be too volatile together? Or will they be just right for each other…
AUTHOR'S NOTE
With over 450 stellar five-star reviews, this series has really hit a note with readers. I have absolutely LOVED my venture into contemporary western romance. I hope you download these books and come on the journey with me! See you at Miller Ranch!
PS
Once you're finished with this boxed set, there are more Miller Family series to binge-read on! Miller Brothers of Texas (five novels) and Brides of Miller Ranch, N.M. (six novels), and another one on the way! So get ready to enter a heartwarming world of sweet romances, good times, real life problems and happily-ever-afters!
---
Listeners say:
I'm beginning to walk around with my earphones in, listening to you and Jay!
I especially enjoy the times that Jay sings during his narration.
I love the "country cowboy" voice as I call it that I've heard in several of his audios, especially in the Cowboy Mountain Christmas.
I am just astounded at how he can change his voice for all the characters in the book.
The more I listen to audiobooks, the more I love all of Jay's heroes! He just reads with so much feeling and heart for the characters.
Having mulled over this question for a few days, I can only answer: the one I'm listening to now! I can't pick a pick, except for Jay. Jay is my favorite narrator.
It's not so much an individual voice that has sold me on him, but the amazing blend of distinct voices that allow me to identify the speaker without introduction.
---
Devotion from Jessie:
James 4:14 For what is your life? It is even a vapour, that appeareth for a little time, and then vanisheth away.
Have you ever sat and thought about doing something – something that you knew was wrong – and knew you shouldn't do it, lecture yourself about not doing it, then…you go ahead and do it anyway, all the while knowing you are being a total brat and NOT pleasing the Lord in any way?
I just did something like that on Friday.
Usually I'm pretty easy-going. I do get my heart set on things sometimes, and I'm working on that, but for the most part, God really helps me to not get upset at the inconsiderate things people do.
There is someone near me who is consistently inconsiderate and selfish. This person has really helped me grow as a Christian and get closer to the Lord – I can be kind and loving to them because I see it as a service to the Lord.
Most of the time. Ha.
For now, know that I had a tough week last week, mostly because I didn't get much sleep and Thursday night I was up with a stomach sickness that had swept through our neighborhood.
I know you all have been there – Friday I was so exhausted I was shaking and just holding my head up made my chest hurt.
I don't expect to be babied and I never expect people to take care of me. Don't get me wrong – that's nice and I like it, but I don't expect it, right? It's not something I feel entitled to, no matter how long and hard my week. God and I have it, and I don't get upset when people don't see my pain or need and respond to it.
But…
This person who is often selfish pulled a doozy.
As I was sitting there, thinking about what they expected of me, I could clearly see what Jesus wanted – me to be kind and sweet despite how exhausted and terrible I felt (I've lectured my kids on ignoring their "feelings" for years. Feelings lie and we can't trust them to help us do right.) and to take the high road and be an example for my children of love and grace.
Goodness. I don't normally have to give myself that lecture. I've been at this life thing long enough to know that I truly do want to do right, even when I don't "feel" like it, but on Friday, even my self-talk didn't work.
I had the opportunity to be gracious and plenty of time to get myself to fall in line, but I – deliberately and selfishly – chose to NOT BE NICE.
Ugh.
Don't you hate it when that happens?
Actually, as I'm writing this I still haven't apologized. (Actually, I was going to write something completely different, but as I prayed about what to write, God brought this verse and this saying to mind, probably because I needed it. Funny how He works that way, right? Lol)
I'm writing this Saturday afternoon. By the time it posts in the Chat on Sunday morning, I will have apologized to this person. Normally, they accept my apology and maybe only give me a little bit of a hard time about how I'm not what I should be and how I need to work on being a better person and how I'm so lucky they put up with me. And I say that a little tongue-in-cheek because it's so easy to see someone else's faults rather than our own and it's even easier to see what they did wrong and be upset that they haven't apologized.
And, I know, some people will say, if it's just as much their fault as yours, you shouldn't apologize and you shouldn't put up with people who are selfish and who aren't kind, etc.
because that just encourages them to continue to be that way.
Well, that's not what Jesus says. (I wish it were. Being a Christian would be a whole hen of a lot easier.)
Life is short. (A vapor, remember?)
And the things I do for Christ are the things that last. For myself, I'd happily not get along for the rest of my life.
For Christ, I'll apologize.
I'll forgive (even when no forgiveness is requested).
I'll love.
I'll agree that I need to be better and need to work on being kinder and living what I believe. (It's true, after all.)
Those are the things that last. The things I know Christ wants me to do (even though I don't want to).
I guess I'll say this, even though I really don't want to: Those hard people in our lives? The ones who are unkind and sour and who expect more out of us than we feel we can give? Those people are the ones who really give us the opportunity to do things for Christ – things that last.
Jesus himself said that anyone can get along with nice people – He wanted more for Christians. For us to not just "get along" with difficult people, but to be known as a peculiar people – ones who LOVE those hard people – the ones who are unkind, who persecute us and despitefully use us (and for us to show that love in real ways). THAT'S what Jesus asked of us.
Sometimes I think I just can't stand this person in my life anymore (and others just like them, right? Lol) and then I think that Jesus put them in my life, not as a trial for me to endure, but as a blessing.
Ha. (Say Wut??)
What better way for me to accumulate treasure in Heaven than to have a constant choice every day as to whether or not I'm going to do right, and to choose the right? To have that opportunity on an almost daily basis to do things for Christ, things that last.
I'm not saying it's easy, and I'm not saying it's fun. Obviously just two days ago I was a total failure. But I do think that often what we see as trials or hardships are actually God's way of offering the opportunity to allow Him to bless us for eternity.
His commands often seem counter-intuitive and almost impossible, but I truly believe they're not just meant to test us, but they're given because following them is the very best for us – whether in this world or the next.
Is there something in your life right now – in this short vapor that we have – something that feels hard, but you know is right, something you could do that would last through eternity?
Friend, do it today. And, when we meet on the other side, we'll laugh at how short this period of trial was in our lives and how much impact our right actions had in eternity. I look forward to that conversation!