Hello Sweet Readers!
I hope everyone has had a wonderful week!
What a GREAT response to Preston's story! I appreciate your kind words so much!
I know some of you don't want to listen, and I understand. I tried to answer all the mail I got, but I wanted to say that, YES, Preston's story WILL be released in ebook, but, as I explained to everyone who wrote, I love that God has given Jay an amazing talent, and I love even more that Jay has decided to step out in faith and use his voice for God.

When I see a Christian taking a chance, living by faith, turning their back on other things that could be extremely lucrative and walking forward, willing to do whatever God lays out for them…how can I not support that in every way possible? THAT'S why Preston's story released on YouTube only – to support Jay and all he's doing.
I believe in him and I believe in God's plan for him (whatever it is). And I SO appreciate all of you who have supported him as well. Say with Jay has met the hour requirements AND the subscriber requirements, and now it's just a matter of whether YouTube will accept his channel and monetize it or not.
We're waiting and praying, and anyone who wants to pray with us that Say with Jay will be monetized on YouTube is welcome!
In the meantime, if you'd like to support him, he has some great audios up for you to listen to, including a brand NEW, never-before released audio just out today! The audio for my new release, Cowboy Coming Home, went live on YouTube at 7:00 am this morning, FREE to everyone, and you all can be the first to listen to it HERE.
There are lots of other videos to choose from as well.
You can listen to Preston's story, Heartland Faith, HERE. (It just released on Tuesday and already has over 1000 views!! Thank you! : )
With more than 1500 views, Cowboy Walking Away is the most popular video on Say with Jay and you can watch it HERE.
If I counted right, he has SIXTEEN of my books up to listen to for FREE! We just have fifty-some more to go, right? lol I can't wait!
Can I admit that, while I love the videos Jay has chosen to use when he makes the videos, (especially the baby pigs, and the cupcakes, and the owls, too!) my favorite audios are the ones were we get to SEE Jay perform. You can watch Jay Dyess perform samples of my books, HERE. (SO much fun! lol Make sure to leave comments saying how much you love watching him!)
You can see all the audios Jay has available on his channel HERE. (Except for Heartland Stars. For some reason, it's not with the rest of them, but it is in with the series.)
Unlike Audible, there are no reviews. We depend on comments for every video and hitting the thumbs up button on each one as well. Comments also help YouTube's algorithms show our videos to other watchers.
So…if you like what you hear and would like to support us, rather than leaving a review, please consider leaving a comment and hitting the thumbs up!
Alright, a little personal note – I'm still not home on the farm, so no new farm story. But, I'll put one from last year down below. : )
Also, I'm going home for a week next Tuesday, so I have a special surprise newsletter takeover planned, and you're gonna love her!
When I'm writing my newsletter, I always feel so blessed to have such a wonderful and supportive community of people who read both my books and my newsletter and who write and respond. Thank you so much for supporting my writing and our audios and for being such a blessing and encouragement to me!
---
He saved her life. She owes him a summer. The price might be too high for both of them.

Armstrong Brant stepped between Glory Baldwin and a charging cow. He ended up with broken ribs and a farm and family he couldn't care for through the pain.

At the prompting of The Sweet Water Piece Makers Quilting Club, Glory volunteers to watch Armstrong's four children while he recovers. She owed him and it made sense. But she never expected to fall for a man with four boys.

Armstrong isn't comfortable sitting around. And he's definitely not comfortable watching someone else do his work. But he's downright surly at the idea of allowing another woman into his life after his ex simply walked away.

Still, he doesn't have much choice since he can't even change a diaper with his broken ribs.

Spending a summer together might convince both of them they could take a chance on each other, but when his ex walks back into his home, he's faced with a choice: does he walk away from the best thing that's ever happened to him? Or will he come home to stay?

Reviewers Say:
★★★★★ "I'm loving being back in North Dakota in this series. Does that sound crazy? Yup! Jessie makes us love these strong, solid, unpretentious people who aren't flashy and just get things done around whatever life throws at you." – Wren

★★★★★ "Glory is one of the most selfless characters I have ever read about." – Renee

★★★★★ "I loved the connection between Armstrong and Glory. They complement each other well and their story is wonderful and inspiring." – Rebmay

★★★★★ "Fantastic characters and storyline." – Sharon

★★★★★ "The ending was a big surprise that I was not expecting." – Lucia
---
★★★★★ "I think this is probably my favourite book by the author to date. Something about Carmen's journey of obedience and trust really touched me, and to see her reward was amazing." – Cathy R. Morgan

★★★★★ "If I could rate higher than 5 stars, I would! This was such a powerful book.…I recommend this book to anyone and everyone. Grab it, read it, and soak in the teachings throughout it! It is exactly what our current society needs to hear!" – Elizabeth Fiscus

★★★★★ "Unforgettable! I will be thinking about it for a long time. I highly recommend it!" – Victoria

★★★★★ "I was hooked from the first words. This story was so well told, more dramatic than we're used to from this author, but it sent the message in such a powerful way." – Lady M

★★★★★ "What a powerfully moving and inspirational story." – Lucia Valenzuela

★★★★★ "WOW. What an incredibly inspiring tale of faith and faithfulness. Preston and Carmen have both let God refine them through their trials, and their lives now reflect God's glory. I've truly been challenged by their example." – BG Armstrong
---
After being fired from her waitressing job and coming face-to-face with her ex, Rose Baldwin lets a little lie escape.

She forgot there is no such thing as a "little" lie.

Knowing she has to go and confess that she lied, she allows herself to be talked into playing The Piece Maker's Dating Game and somehow ends up "fake-dating" her partner.

Derek Fields is a rancher intent on buying his grandparents farm. His wife left him and he's ready to come home and settle down.

But he needs a caregiver and the one that seems to have fallen into his lap is his Dating Game partner and also the woman he's agreed to "fake-date."

Only neither one of them are good liars and their straw house could never survive the wild North Dakota wind…or could it?

Do they have the character and faith to face their problems and build a solid foundation together?

Reviewers Say:
★★★★★ "This is the very essence of clean and wholesome with strong Christian themes but also dealing with harsh realities." – Wren

★★★★★ "I believe that I could honestly recommend any book by Jessie Gussman, even without reading it. All of her books are well written with wonderful characters and Christian principles. This is no exception." – Jill

★★★★★ "Jessie has written a brilliant story about lying, confessing, being honest and always doing what is right in the eyes of God. I recommend this and all of Jessie's books to everyone who loves good, clean, Christian romances." – Carol

★★★★★ "I love Jessie's books. They are down to earth with characters that are just like you and me. She has faith in her books, and we all could use a little of that every now and then… If you're looking for some small town family, friends, and where everyone knows your name… and your business, this is the book for you!" – DeedeeW

★★★★★ "This story was just a wealth of thought provoking ideas along with an excellent story. There is so much rich depth in the pages the book is worth reading just for that alone." – Kindle Customer
---
Jessie again with a farm story from a couple years ago:
The question I get the most from people is "How do you find the time to write?" I've also been asked what my day looks like.
I thought I would just let you know what I did yesterday. It was kind of typical, in that there is no typical, if that makes sense. Although Julia wasn't home all day, and that's not exactly normal. Also, I had off from packing eggs.
Well, I slept in and I didn't get up until after six. Normally my writing hours are from four to six-thirty or so.
I was not completely dressed when my husband sent me this pic: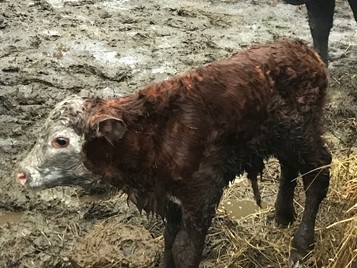 Okay, so I can tell from that pic that 1) We had a newborn. 2) It's a bull. 3) It's up in the pasture field by the feeder, cold and wet and muddy. What you can't tell from the pic is that it was drizzling and close to freezing, and the calf was shivering.
So, yeah. I had just put clean clothes on, but I knew they weren't going to stay that way for long.
First, we went over and bedded the barnyard – the part that's covered. We had a calf that's sick and two more cows that we're expecting to calve any day, so we checked them out while we were there.
Also, my daughter-in-law came over with some scraps for our pig.
Now, I know I've not talked much about our hog. He's a friendly fellow, and he enjoys being petted. However, he also, apparently, enjoys eating fingers, and the first time I petted him, he tried to eat mine. This shouldn't have surprised me, but the pig snapped its head around and had the ring and middle fingers of my left hand clenched between it's teeth before I could jerk my hand back. I took umbrage at that breech of trust, balled my right fist up, and hooked a hard right on the left side of his snout, just below his eye.
He let go of my fingers and they healed up just fine. I don't get angry too often, and I wasn't angry then, but I do have a tendency to hold grudges, I guess.
So, I don't pet the pig, although sometimes I do go over to his pen, lean against the gate and say, (in a very cheerful and happy tone – because, hey, I don't want to be bitter) "What's shakin' bacon?"

Also, I don't usually say this to males, but I will sometimes tell him he has some fine looking hams on the backside, too. Just saying.
I guess the point of that story is Jessie gets a little testy when someone tries to eat her fingers.
Anyway, my husband thought he'd call the cows down from the hill and put a bale of hay in the feeder on the bottom side and that would draw the new mama down.
I knew it wouldn't, but I saw an opportunity to go eat breakfast, so I encouraged him in his endeavor, and took off for the house. Except…
He reminded me that we had a meeting with our accountant later in the morning and he'd (finally) gotten the numbers I needed to finish the P&L and they were on his desk.
So, breakfast was a nice idea, but it didn't happen quite yet, because I stopped in the office and started working on accounting.
The nice thing about this was I knew I didn't have to go to the accountant meeting, since Julia had plans with a friend for the day and I was driving her to town.
btw, Julia can drive, and has her license, but she has depth perception issues as well as some visual processing problems, which made homeschooling an interesting challenge for me and an exercise in frustration and perseverance for her.
She can see now, looking back, that those struggles shaped her for the better, but there were some hard years in there.
Anyway, I answered some emails and messages while I was waiting for our computer, which was running slow (because who goes fast that early in the morning, right?) and I could see the cows walking across the hill and down to the barn, although I didn't see our new mama.
She never walked by, the computer never ran faster and I decided my time would be better spent foraging for breakfast than answering emails, when my husband texted me and asked if I was ready to go get the calf.
Now, it is probably a thousand (muddy, and in some places, deep muddy) yards from where the calf and cow were to our barn. It's mostly down hill, but when it's muddy, sometimes that's a bad thing. And often times newborn calves don't walk well and need carried.
Anyway, I texted him back that I needed to put my boots and coat on, then I'd be out. One minute. What I left out of the text (for brevity's sake) was that I was also going to eat breakfast first, too. 😇 (I know, how does he put up with me, right?)
So, anyway, I was almost to the refrigerator when I saw he was already up on the hill. I knew my butt was going to be in trouble if I didn't get up there with him, so I open the door and yelled up that I'd be there in a minute (hoping that he'd not notice that I'd already told him one minute ten minutes ago). Somehow that morphed into an argument about how we were going to get the calf down (we were only shouting because we were so far apart).
He wanted to take it down through the pasture (and mud) and I wanted to take it around out of the pasture where there was no mud because I just KNEW we were going to end up carrying it, and where my husband is like a mountain goat and also NEVER gets dirty, I'm basically a klutz and figured I was going to end up on my butt in the mud.
I lost the argument, but I did decide to grab my phone (because I wanted to have great baby calf pics to show you all). Normally I do not take my phone with me to the barn. I think all of us have dropped our phones in the water trough at least once, and some of us (the slow learners, I guess) have done it multiple times.
Anyway, I shoved my phone in my back pocket, put the coat and boots on (again) and hopped over the fence. (Okay, I climbed over the fence, but hopped sounded so much better. : )
This was one of the many times I was wrong because the calf actually did walk the whole way to the barn by itself and I didn't fall once. It took a while though, because newborns don't walk fast and the mama didn't want to go where we wanted her. Finally, after zigzagging around and trudging through the mud, we got them down, under roof and had the gate shut. Perfect time to take a cute calf pic. So, I reach in my back pocket for my phone…but it was gone.

Gotta laugh, right?
So, by this time, the hubs is late for his accounting appointment, I'm not going to have Julia's friend picked up on time, one of our boys is waiting for us because there was a problem at the (boy's) chicken barn and our ex-bad boy truck driver is standing in the barnyard with a delivery (and he's just cooing for all he's worth over the calf – he's never seen anything like it)
So, my youngest daughter goes looking for my phone (still laughing over that; this is why there are NO CUTE CALF PICTURES), I throw the numbers in the computer, but can't get it to print, so I use the hub's phone to take a pic of the screen and print THAT, then run my daughter to town (never did get breakfast), come home, cook lunch (hot sausage sandwiches with peppers and onions) while I have my laptop on the counter trying to finish the stuff I had to do for the church, and also my phone (which my daughter found) because I have emails and messages to answer still, and I'm almost finished when my husband texts me: You coming?
Me: Yes
I have no idea where he's going.
Okay, so I might take some flack for this, but I try to make my default answer to my husband a "yes."
Anyway, I finished up the church stuff, delay the emails, got my daughter to finish lunch, and found out that we had a driver who was sick, so I was riding with my hubs to get feed. (On that trip I also ended up looking up some paperwork, emailing it, figuring out what to do about the issues brought up at the accounting meeting and grabbing some 1099s and basically doing my mobile secretary job.) I got home just in time to switch the laundry, put a basket away, clean the kitchen, empty the trash, and take my youngest daughter to pick up a friend who is staying here through Monday. I got home and worked on this newsletter for a half an hour until it was time to go pick up Julia. When we got back, she had a package to open, which kind of took a while, then the hubs wanted me to go over and check the calf and the other cows that are going to freshen, and we also had a goat that was kidding. We didn't get there in time, and the second baby came out with the placenta wrapped around its head and suffocated. 😢 My daughter and her friend decided they were going to sleep in the goat barn, so I helped a little with that and told them to please come down if they felt like they were going to freeze to death. (Since I didn't want to have any awkward conversations with her parents about bodies and funerals, not to mention they probably wouldn't let her stay over again.) At this point it's after ten. I never did get breakfast, and I think I'm just going to put that on my list of things to do tomorrow. : )
I think, when I started this, I was answering the question, when do you find time to write…I don't know, honestly. Hopefully God doesn't let me sleep in tomorrow.
Thanks so much for spending time with me this week!
Love and hugs!
~Jessie