Hello Sweet Readers!
I hope everyone has been having a wonderful week. : )
I have a story below about my oldest son and our Great Dane, Noah.
But first, Jay Dyess has a brand new LIVE preview for you over on Say with Jay! These are SO much fun. I actually already watched this one and Jay is defintiely going to make you laugh today. His sense of humor really comes out in these and this one is the best yet. (Also, did I mention he's performing a kiss scene?)
You guys all know I'm not much into fashion, but I have to admit, I really look forward to these previews and not a little because of finding out what in the world Jay is going to wear.
Today?
Well, you all have to check out his absolutely awesome t-shirt! (I SO want one of those.) Be sure to leave a comment – either about his performance or the shirt, or just thank him for making you laugh. : )
---
Watch as Jay performs this sample!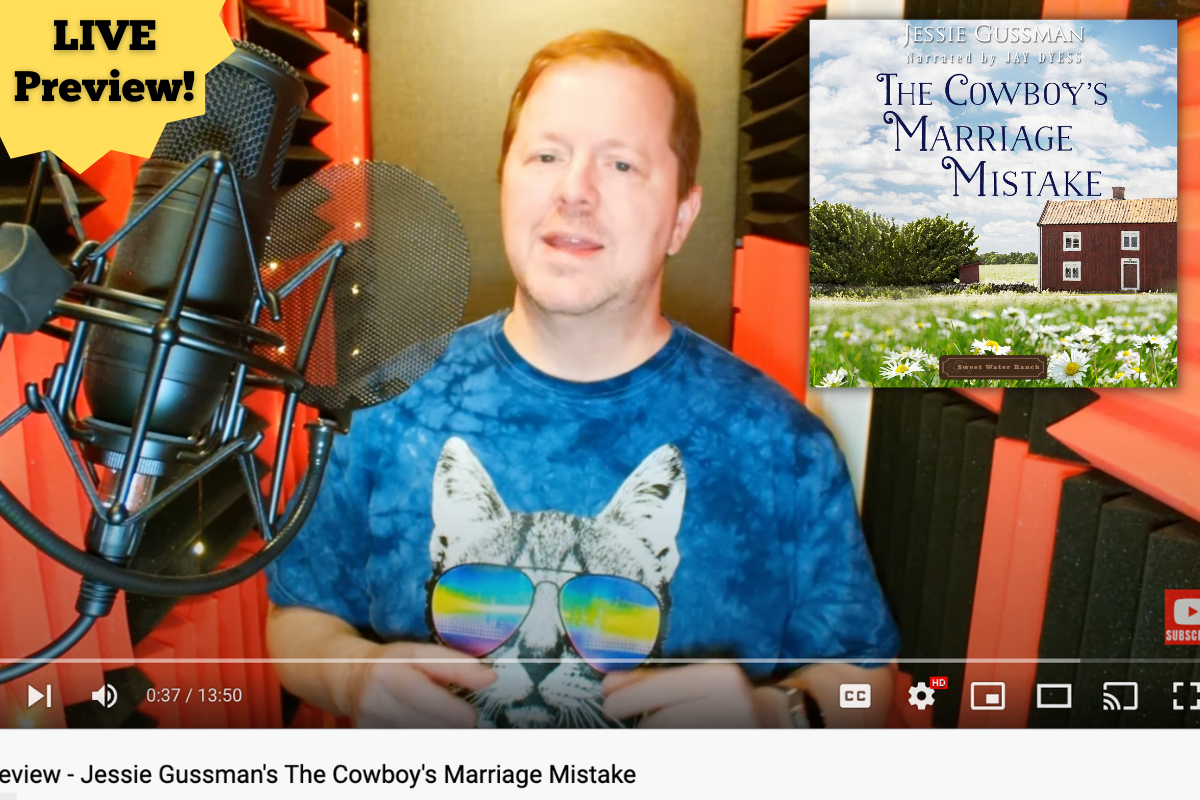 Rancher Cordell Stryker just wants to settle down on his ranch, and he's convinced the twin sister of his best friend to tie the knot with him.
But as the wedding day approaches, he finds himself drawn more to her sister. That just can't be, because she's his best friend.
Librarian Rosaleen "Rosie" Bloom is addicted to reading romance novels and living vicariously through them, rather than pursuing the man she loves in real life.
Rosie had been content to read about romance, letting life pass her by, but could she rewrite her own love story?
Reviews for The Cowboy's Marriage Mistake:
★★★★★ "True deep friendship is worth the world. What Cord and Rosie had was so very special and precious and exceptional. Rosie having an evil identical twin added a strange twist that was intriguing." – Judi
★★★★★ "There were lots of things trying to keep Cord and Rosie apart so you'll have to read how it all worked out. Wow!" – M. Northington
★★★★★ "I loved this book! Cord and Rosie's story of their lifelong friendship and how that friendship grew into so much more. This series is so special that I don't think I will ever forget the stories." – Pamela
★★★★★ "Loved the complete series would definitely recommend! I love clean romance stories and this series was so good! Will definitely be reading more of Jessie's books love the Audible books too." – Lily
★★★★★ "Another one Jessie's wild and crazy romance stories. Grab your seat and hang on for a wild ride. My head is still spinning from that wild ending." – Jim
Jessie again!
I have TWO favors to ask this week.
First, fellow sweet romance author, Lindzee Armstrong is SOOOO close to 1000 subs for her YouTube channel. She only needs 88 more. Her tag line is "Contemporary romance that won't make you blush." Along with contemporary romance, she writes some great romantic suspense as well. Please help her out and subscribe HERE.
Now, if you have a few seconds, I need your help. We've been working on improving our YouTube thumbnail graphics. We want to use creatives that are eye-catching, but also say "sweet romance" too.
We've made like a million thumbnails. Okay, maybe not quite that many, but so many that my eyes are starting to cross and I'm not sure what's working and what's not. We've narrowed our best ones down to our top FOUR.
Would you mind checking the four of them out below and would you tell me which one is the most likely to catch your eye, make you stop scrolling and click on it? Just reply to this email with the number of your favorite.
Everyone who votes will be entered into a drawing where I'll give away a couple of YouTube subscriptions and a $25 Amazon egift card. Again, just reply to this email with the number of your favorite and you're entered! I'll announce the winner on Friday.
The four choices are directly below. Thanks so much for your help!
1.
2.
3.
4.
---
My good friend, the lovely and sweet Alexa Verde has a NEW RELEASE out! If you enjoy romantic suspense – and I know you do – you'll have to check this out!
Once a thief, always a thief?
One night, the past catches up with former model (not to mention former thief) Jan Hutchinson. When she stumbles on what she believes is her friend's bleeding body, Jan nearly follows that fate. To stay alive and find out why members of her old crew (think runaways, not runways) disappear one by one, she needs the help of the only policeman she trusts—her ex-boyfriend, Luis Powers.
The issue is, Luis Powers doesn't know whether he trusts her after she broke his heart. But, with danger surrounding them, they must figure out how to survive—together, not to mention each other.
Secrets of Rios Azules series: sweet, wholesome books about faith, love, and murder. Welcome to Rios Azules, a small Texas town where rivers and emotions run deep, and the secrets are deadly.
Prequel River of Danger (Jacob and River)
Book 1 Color of Danger (Luke and Mari)
Book 2 Taste of Danger (James and Soledad)
Book 3 Touch of Danger (Ivan and Julia),
Book 4 Scent of Danger (Connor and Maya)
Book 5 Danger Under the Mistletoe (Sebastian and Rachel)
Book 6 Winter of Danger (Luis and Jan)
Book 7 Whisper of Danger (Aidan and Lydia)
Jessie again:
Back when my oldest son was one and a half and I was pregnant with my second, I was outside doing some yard work. Some toddlers will stay close, wanting to keep mom in sight at all times.
Ha. Not this kid.
I mentioned last week we lived way out – no neighbors around – at the edge of a hay field with corn and bean fields surrounding us.
We didn't have a fenced yard, but we did have the fencerow that bordered two sides of our property. And there really wasn't anything he could get into that would hurt him (I thought), so while I planted petunias and spread mulch on one side of our house, I didn't worry too much about him, but just walked around and checked on him occasionally to make sure he wasn't eating rocks or anything.
At the time we had a Great Dane named Noah. He was a big guy, like Great Danes tend to be, probably weighing about twice as much as I did, but just the sweetest, most gentle dog ever. Man, I loved that dog.
My son was out of sight behind the house, while I was kneeling in the dirt beside it. Noah was with him, and, while Great Danes aren't known as being fiercely protective, I at least didn't worry about the dog hurting my son, despite his size.
I have a tendency to get lost in my head, and Noah had been barking on and off for a bit before it registered in my brain that something unusual must be going on for him to be barking like that. Our Danes were never big barkers.
So I pop up and hurry around the corner of the house.
About fifty yards away from me, up towards the fence row, my son has his hand out, and is saying, "Come here, kitty. I want to pet you. Come here. Get out of my way, Noah!"
In the upper middle part of the back yard, there was a beautiful skunk.
Skunks can have different patterns on them. Some of them are black with a white stripe. I've seen them with two white stripes, too.
The prettier ones, in my opinion, are white with black stripes, although, especially in older skunks, sometimes the white turns yellow and it looks dingy.
The one in my yard that day was shiny white with two black stripes going down each side of its backbone. Unlike most skunks, it was slender and almost seemed graceful, kinda like a weasel, only the wrong color and too much fur, plus its tail was bushy and long and waved over its back like a beautiful black and white flag.
It was the prettiest skunk I'd ever seen.
My son, apparently, thought it was adorable, too, and wanted to pick it up and pet it and was very irritated at our dog.
Noah was keeping his body between the skunk and my toddler. Every time my kid moved, Noah would adjust himself so his shoulder was in front of my son and he couldn't walk toward the skunk. And when the skunk shifted direction, Noah would shift, too, gently pushing his little friend back and out of the way.
He'd occasionally throw a bark over his shoulder like he was yelling for me to come.
Poor Noah. Sometimes I'm a little slow on the uptake.
But I think everyone pretty much knows if you see a skunk out in the middle of the day, it's probably sick. Rabies is the first thing that comes to my mind. This skunk was not exhibiting the classic symptoms like I think of them – foaming at the mouth, aggression, attacking anything that moved.
It was pretty much minding its own business, moseying around my yard, unconcerned with the two hundred pound dog three feet beside it, or my son's increasingly angry pleas to come closer so he could pet it. Ha.
Now, I loved that dog, but at times like this, your mother's instincts take over, right?
It felt like a million years had passed since I came around the house and saw my kid five feet away from and struggling to get closer to, what I was pretty sure was, a rabid skunk.
But it probably only took a couple of seconds. I sprinted up the hill (I can only imagine how ridiculous I must have looked – you don't see pregnant women at track meets for a reason), grabbed my son and hauled him, crying because he didn't want to leave the "kitty", into the house.
Then I went for a gun.
I wasn't any better shot then than I am now, just saying. And I was pretty sure that in order to test for rabies, the brain couldn't be damaged. I needed a body shot, right behind the front shoulder blade if possible.
I was thinking about that as I ran back outside with my handgun, just a few seconds later.
In that amount of time, my old German Shepherd, the family dog of my childhood who'd been my best friend and companion through my primary and teen years and who had left home and gone with me when I got married, who could barely walk, had killed the skunk.
It never sprayed anything. I guess because it was sick?
I grabbed the dead body, (yup – I'm a farm girl from way back, lol) put it in a bucket with a lid and called the game warden who came and picked it up.
It did test positive for rabies.
Our dogs had no puncture wounds, and were utd on their shots. We were quarantined for three weeks, while we watched the dogs for symptoms, but both dogs were perfectly fine, although neither one of them lived long after that.
I think it might be a little dramatic to say Noah saved my son's life. Maybe. I honestly believe safety is of the Lord, and we should just use common sense and trust God to take care of us. That time He used our dog to protect my son.
Thanks so much for spending time with me today!
Hugs and blessings!
~Jessie ❤️